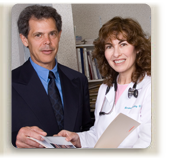 Richard Buckley, MD
Marina Buckley, MD
Pocono Medical Care
Advanced Dermatology
Surgery and Laser Center
303 W. Harford St,
Milford, PA 18337
______
Hours:
Mon, Tues & Thurs 9AM - 6PM
Wed & Fri 9AM - 4PM
Sat 1-2 / month 9 AM-Noon
Evenings by request
______
Click here for details about our Internal Medicine
______


Users should review the "terms of use" before using the Web site. This web site is for information only. Do not use the information herein to diagnose or treat your cosmetic surgery or medical problems. You should contact your physician with all medical questions and concerns.
© 2010 by Pocono Medical Care, Inc. and Richard E. Buckley, MD,
All rights reserved.
Serving NY, NJ, PA
Pike County
Upper Delaware Valley
Northeast Pennsylvania

MilfordMD Skin and Laser center is conveniently located in Milford, Pennsylvania where NY, NJ and PA meet. Enjoy professionalism, expertise, confidence and caring from our doctors and staff for all of your cosmetic surgery, medical & surgical dermatology needs. Please browse the milfordmd.com website to learn about the services offered by Richard Buckley, MD and Marina Buckley, MD. Our courteous and knowledgeable staff is ready to answer your questions and schedule your complimentary cosmetic consultation.

Botox — it's a miracle! I love it & am a loyal fan now!! No more lines! I look like I did in my 20's! Can't tell when im stressed or squinting. Can wear my hair differently. (no bangs!)
—M Schmidt, N.J.
Hi Dr Richard, FYI- I am getting so many compliments on how pretty (and much younger) I look. Thanks for your wonderful work!
—T.R., New York, NY